As the saying goes, mom knows best. As caregiver and purchaser of household items, moms play an important role in making sure a household functions smoothly.  As the primary person in charge when it comes to day-to-day purchasing decisions, moms also make up an increasingly popular market segment for advertisers.  Traditionally, advertisers connected with moms at home through television, radio, and print advertising. However, with the advent of internet-enabled phones, social communication platforms, and digital publications, advertisers can connect in new ways that moms can better identify with.
Enter the "Alpha Mom." This new group of Moms is college-educated, tech-savvy, and wants to be involved with their children's lives yet engage in a more active role outside of the home.  Alpha Moms are constantly on the go, and this difference in habit from traditional stay-at-home Moms presents a new challenge for advertisers looking to keep up with this audience.
Getting in front of an elusive Alpha Mom might at first glance seem like no easy task. However, part of the solution can be found in their active routine. As natural social networkers, Alpha Moms maintain relationships with their friends via online social networks: they blog, they use the mobile web to find deals, directions, read reviews, and they spend time shopping or dining out with regularity. In other words, despite being on the go, they are incredibly connected, albeit busy or distracted with new online, mobile, and digital media.
For advertisers it's no surprise that traditional advertising streams that require more stationary engagement like print, radio and television are on the decline.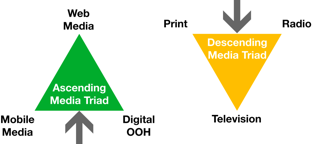 This means that in order for companies to reach these on-the-go-Moms, they have to target Moms where they are going. A newly emerging trend called Life Pattern Targeting pioneered by our partner SeeSaw Networks, is proving to be very effective in mapping a person's daily routine and weaving advertising into their lives at the places where they spend time. In the case of the Alpha Mom Life Pattern, mobile media, web media and digital out of home media are integrated at locations that mothers frequent throughout the day.
In a fairly typical day for example, an Alpha Mom may check email, the news and Facebook first thing before getting the kids up and off to school. Between errands, friends, or toting children around, the day may take her to the gas station, a furniture store, a gym, the doctor's office, the pharmacy or grocery store, or lunch out with a friend. The whole time she'll likely stay in touch with social media, email, and use the mobile web for information on any of the day's events or happenings.  At home the routine continues as the Alpha Mom catches up with family, email, and social networks, then to bed.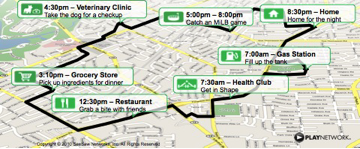 Though traditional media may be present at all of these places in a typical day, there are many opportunities for brands to more effectively reach our Alpha Mom through non-traditional media. Each location from the gas station to the doctor's office and all points in-between is an opportunity for advertisers to get in front of our Mom as she pauses for a moment. Seizing the opportunity in these locations is the new way advertisers and brands are staying connected to the Alpha Moms. By creating immersive brand environments that transcend digital screens and displays to reach Moms in the places they travel, and by placing branded displays, video and music content, and activities in front of Alpha Moms wherever they go, advertisers are connecting with the Alpha Mom through these branded experiences. In addition, integrating social and mobile media into these branded experiences builds greater affinity with our Moms, and opens the door to more opportunities through SMS couponing and geo-targeting applications where brands can follow and reach someone out of home and on the go
As consumer habits continue to evolve and carry consumers away from traditional advertising platforms, new technologies have emerged yielding new opportunities to engage and reach consumers. The success of reaching Alpha Moms, and other demographic groups, means that with more research such as Life Pattern Targeting and more advertisers and retailers hopping on board, brands will be able to follow many segments of consumers and ensure they are actively reaching them instead of posting to static mediums where nobody is watching or listening.
If you'd like to learn more about Life Pattern Targeting, Ad Networks, or third party advertising, contact Steve Lovell with PlayNetwork: slovell@playnetwork.test or visit www.playnetwork.com.
– ­Steve Lovell, Sr. Director, Advertising & Video Networks, PlayNetwork