The CURIOPlayer Z8 is a compact and secure music player that allows you to manage music playback from anywhere in your location.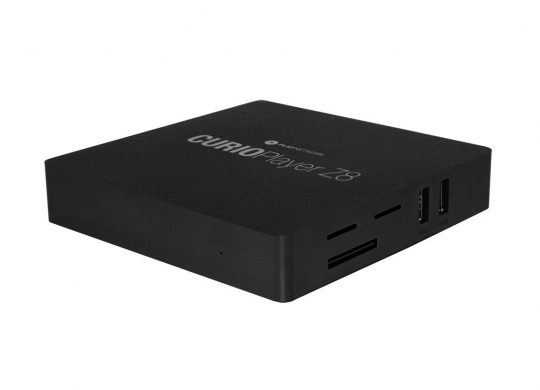 Featuring a plug-and-play interface for easy setup within minutes, the CURIOPlayer Z8 supports over-the-air updates to keep your player secure and offers custom integrations for more control over your in-venue experience.
Music content is stored, and regular updates can be scheduled to get quick access to new content.
Purchasing or leasing options are available for all players.
Over-the-air content and security updates for improved reliability and maintenance.
Plug and play interface with auto-on and auto-play to get up and running quickly.
A Linux-based OS and an updated processor for improved reliability and security.
Equipped with standard network ports to support secure communication.
Uninterrupted playback with additional local storage (store-and-forward).
Integration with PlayNetwork's expanding product offering.
CURIOPlayer UI
A browser-based application that allows you and your staff to browse, select, and change playlists
from most Internet-connected devices, such as computers, tablets, or smartphone.
• Get quick access to view the current song name and title.
• View list of available channels (if applicable).
• Choose another channel to queue up next.
• Control volume without accessing the player hardware.
• Easily adjust to the level of ambient noise in your space.
CONTACT US
Interested in learning more about CURIOPlayer? Complete the form below and one of our content delivery experts will get back to you shortly.
* All fields below are required
Thank you for contacting PlayNetwork
A member of our team will be in touch soon.