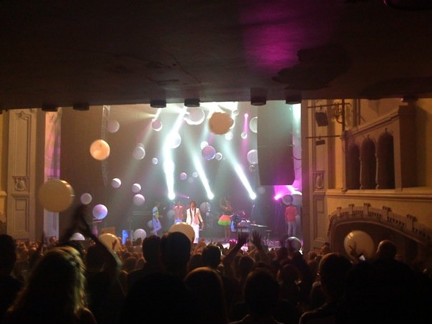 Last night singer/songwriter Mika played to a sold out crowd at Seattle's Moore Theatre. The show was all-ages, which was a good thing considering all of the kids in attendance who otherwise wouldn't have been able to see their hero in action. I had no idea that Mika's fan base ran so young, but I shouldn't be too surprised. The first single from his new album, "We Are Golden," is a teenage anthem that practically begs to be sung while dancing around in one's underwear. Funnily enough, that is exactly the theme of the song's video.
[youtube=http://www.youtube.com/watch?v=2WknXCcVThI&feature=fvst]
On Valentine's Day last year Mika played a gig at the Showbox Sodo and last night he mentioned that show, saying that he had played "in a barn-like structure" (which was true) and that he had lost his voice (which was definitely not.) No one in the audience for that concert had the foggiest idea that he was not at his very best. He still hit all of his high notes perfectly and moved about the stage with the liveliness and swagger of a young Freddie Mercury. Yesterday's show was no different, although he had a new ailment to contend with this time around; a fractured foot from an on-stage injury that required him to wear a boot. It made the performance of his song "One Foot Boy" especially appropriate, but did not hinder his act one bit.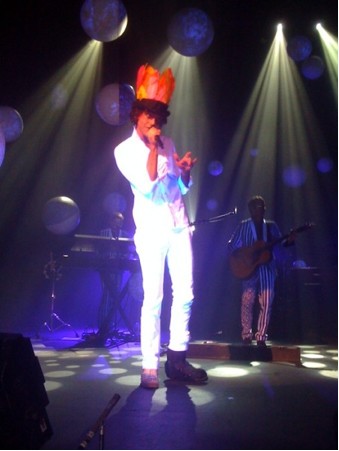 Backed by a band that was somehow able to match his energy all evening long, Mika ran through most of the songs from his two full-length albums. He skipped the covers this time around and focused the entire show on his own tunes, which was a good move on his part, as the crowd knew all of the words to every song and sang along every moment.
The stage design featured dozens of white balls airbrushed with black-light paint and suspended from the ceiling to give the effect of floating planets and a catwalk behind the band which allowed props and back up dancers to suddenly appear at a perfectly-timed intervals. From the stage set to the brightly-colored costumes to the puppets to the poppiest of pop music, the atmosphere invoked the party spirit that lasted long after the last note was sung.
Heather
Producer, Branded Music
PlayNetwork, Inc.