Today, Australian-born singer-songwriter Sia Furler releases her fifth solo album, We Are Born. Sia began her career as a backup singer for British group Jamiroquai before becoming a featured vocalist for producer duo Zero 7. She really came to be recognized a powerful solo artist in 2005, however, when her song, "Breathe Me" was chosen as the soundtrack to the climactic final scene in the critically acclaimed series finale of the HBO drama Six Feet Under. Since then, she has released a live album and, as of today, two studio albums.
[youtube=http://www.youtube.com/watch?v=hr1bTNFjec8&hl=en_US&fs=1&]
Unlike her last disc, 2008's Some People Have Real Problems, the new album is comprised mostly of upbeat electro-pop tracks. Some of the credit for this certainly has to go to one of her major collaborators on this project, Greg Kurstin. Kurstin is the male half of The Bird & The Bee, as well as an in-demand songwriter and producer. So far this year he has worked with DEVO, Marina & The Diamonds, Gabriella Cilmi and Sophie Ellis-Bextor.
Not to say that that there aren't any of Sia's trademark ballads on this disc. They're here. Powerful retro-throwback track "Be Good To Me" features the improvised vocalizations that her fans know and love. But the swinging, swaying track is bookended by two songs designed to make you move to a much more frenetic beat.
Things do start to slow down a little towards the end of the album, with the most surprising track on the disc being a cover of Madonna's Like A Prayer-era lament, "Oh Father." Sia's version seems more reflective than Madge's, as if she is singing more to herself than to dear old dad. A piano and vocals-only version of an earlier track, "I'm In Here" closes the album out on a softer note than it started on.
2010 should be a fantastic year for Sia. Besides the release of We Are Born, she featured prominently on good friend Christina Aguilera's album Bionic, guesting on the track "I Am," and name checked in the song "My Girls." Sia also won a slot on the coveted Twilight: Eclipse soundtrack with the ballad, "My Love."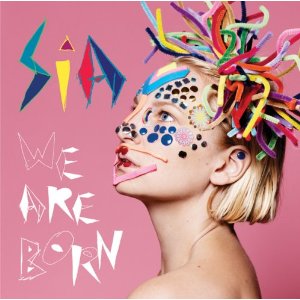 As Sia cheekily posted on Twitter when she heard the Twilight news, "twilight? woohoo! i'm gonna be richish!"
We Are Born should be considered a companion album to Some People Have Real Problems. Do yourself a solid and load both albums into an iTunes playlist. Hit randomize and get your groove on. Both albums are great and they complement each other perfectly. You are also strongly encouraged to catch Sia live. She sounds even better in person than she does on this album.