Tomorrow night, sci-fi nerds everywhere will be celebrating the return of Futurama, the much-beloved (by me, anyway) animated series from Simpsons creator Matt Groening. The sitcom, about a pizza delivery boy accidentally cryogenically freezing himself in 1999 and waking up on New Year's Eve, 2999. With all of his friends and family long gone, he has to adjust to life in the 31st century. He gets a job as (what else?) a delivery boy. Only this time, he's delivering packages to different galaxies.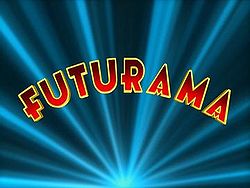 The show debuted on Fox in 1999 and ran for four seasons before being canceled in 2003. Since then, the reruns have been shown in syndication on the Cartoon Network's Adult Swim and Comedy Central. Excitement over the possible resurrection of the series began to build in 2007, when four straight-to-DVD movies were released, and the movies were subsequently broken up into parts and aired as "new" episodes. Then, last year it was announced that the series was coming back for real.
That day has almost arrived! The entire cast is back for another 26 episodes, and I can't wait! I still watch Futurama reruns all the time, and I am so ready for some truly new episodes. The new season begins tomorrow night (June 24) at 10pm on Comedy Central.