The view from my car as I venture out of Seattle, up and over the Cascades and into the central portion of Washington State is a view that I enjoy every time I find an excuse to make the eastward trek. This last Saturday, my reason for the breathtaking commute was a celebration of women in music, otherwise known as Lilith Fair. For those of you who don't know, Lilith Fair is a traveling concert and music festival founded by Canadian musician Sarah McLachlan, Dan Fraser, Terry McBride and Marty Diamond. The women who have graced Lilith Fair with their presences include but are not limited to Tracy Chapman, http://www.jeweljk.com/, http://www.suzannevega.com/, Mary Chapin Carpenter, Liz Phair, Fiona Apple, Joan Osborne, http://www.didomusic.com/us/home/, Lisa Loeb, Tracy Bonham, Juliana Hatfield, Dar Williams, Alana Davis, Dixie Chicks, Beth Orton, Nelly Furtado, Bonnie Raitt, Lauryn Hill, Missy Elliott, Mary Lou Lord and much, much more. In three years, Lilith Fair raised more than $10M for women's charities throughout North America from 1997 to 1999. The tour was temporarily put on hold… Until now.
The venue chosen closest to Seattle to host this event is a huge amphitheater in George, Washington otherwise known as The Gorge. This setting offers a stunning backdrop of glacier-carved lava-created rocks that cascade into a canyon cradling the Columbia River below. Upon arriving to the event, I received a text from a couple friends who were holding spots for my carpool at the front of the general admission line, and we promptly joined them. After relaxing in the sun for about two hours, the gates opened and the race for the best seats began. The general admission section offers lawn-terrace seating, and we found an amazing spot to set up our blankets and wait for the show to begin. We were one row up from the row directly next to the fence, and it was the perfect view of the stage when standing.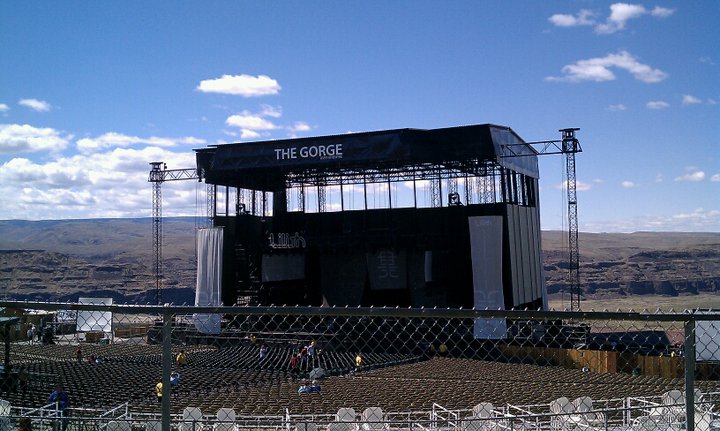 (I was sitting while taking this picture…)
Even though there were two other stages at this festival, I was focused on the main stage and decided I would hold down the fort here since our seats were so incredible. Before I begin on writing about my adventure at Lilith, I would like to honestly say I regret planting myself in front of the main stage and not seeing the other acts that I happen to be a fan of and know personally. About 6 years ago, I sat on a sidewalk at Seattle's Folklife Festival and sang harmony and backup with a talented musician and friend, Xolie Morra. Her band, The Strange Kind, won a local talent search to open this year's Lilith. Other bands featured were A Fine Frenzy, Grace Potter and the Nocturnals, Marie Digby, The Submarines and Ann Atomic.
The first lady of the main stage was Colbie Caillat.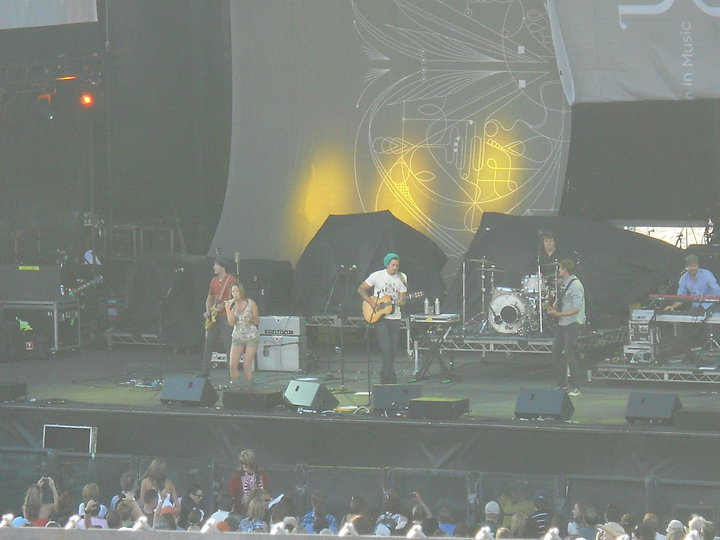 She started off strong doing a number entitled "Let You Go" from her new album coming out sometime this fall. From there she serenaded the crowd with "Realize", "Lucky" and then onto her favorite song to perform, "I Never Told You". She proceeded into her set with a popular Fleetwood Mac hit, "Go your Own Way" and then finished up with her debut single, "Bubbly".
After Colbie's set, we had about 30 minutes to run to the restrooms, grab a few more adult beverages and head back to our lawn seats before our ears were caressed by the vocal styling of the one and only Erykah Badu.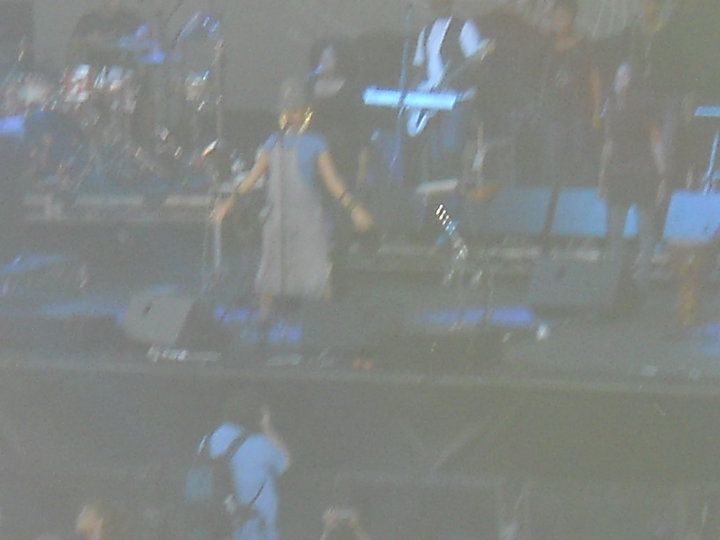 I know, I know… My camera absolutely refused to capture any decent photos for the rest of the entire event, so this blurry, grainy mess is the best I could do from here on in. Throughout her entire set, the natural backdrop made me feel as though there were about 10 Erykahs sporadically placed throughout the canyon and each note she hit echoed and bounced off of a multitude of lahars and cliffs. I had never seen her live until this day, and this was a fact I regretted shortly after her short set was over. I think I will need to plan around her next tour to Seattle so I can see her play a longer set.
Up next was Sheryl Crow, so again, I prepared myself with another bathroom break and tasty beverage. Sheryl kicked off her set with "Every Day Is a Winding Road" and then announced she had a new album coming out (but she wasn't quite sure when that would be) entitled "100 Miles from Memphis". Other hits in her set list included "Favorite Mistake" and a handful of songs you would expect to find on a 'Best Of' compilation. She finished out her set with a cover of Zepplin's "Rock and Roll", and her band proceeded to kick over the drum set and keyboard before standing front and center for a group bow. Up next was a band I knew very little about but was excited to experience, Sugarland.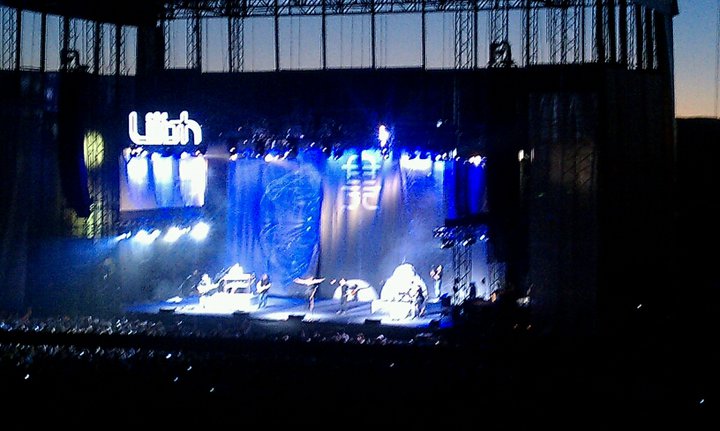 Sugarland really surprised me. Jennifer Nettles walked to the mic and announced in her southern drawl that she wanted to kick it 80s style, complete with the 'claw bang' (a hairstyle embraced in the 80s), and then she proceeded to dance the Roger Rabbit. I could barely believe my ears when I heard her begin to cover the Beyoncé hit, "Single Ladies". From there, the band slid into their rendition of "I Want You Back" by the Jackson 5 and right on into Miley Cyrus' "Party In The USA" and finishing off with Neil Diamond's "Sweet Caroline". I was stunned. The rest of their set consisted of songs off their previous albums, "Love on the Inside", "Enjoy the Ride" and "Twice the Speed of Life", and Sugarland did not disappoint. The whole lawn during their entire set resembled a scantily-clad flash mob sprinkled with tattoos and smiles. The energy was high as they finished their closing number, and while we waited for Sarah to close the evening out, we were given a visual intermission of a new-ish sitcom, "Cougar Town".
The crowd began to chant "Sarah" just minutes before we were treated to the piano intro to "Angel" followed by the soothing vocals of the angel herself. We were treated to a number of hits from "Building a Mystery" to a single off of her new album that was released last month, "Laws of Illusion". All in all, I had a great time, and enjoyed the musical stylings of some pretty fantastic ladies. You'll definitely find me here, first in line for general admission next year to see what Sarah has in store for the line-up.
Zoe
Messaging Coordinator
PlayNetwork, Inc.