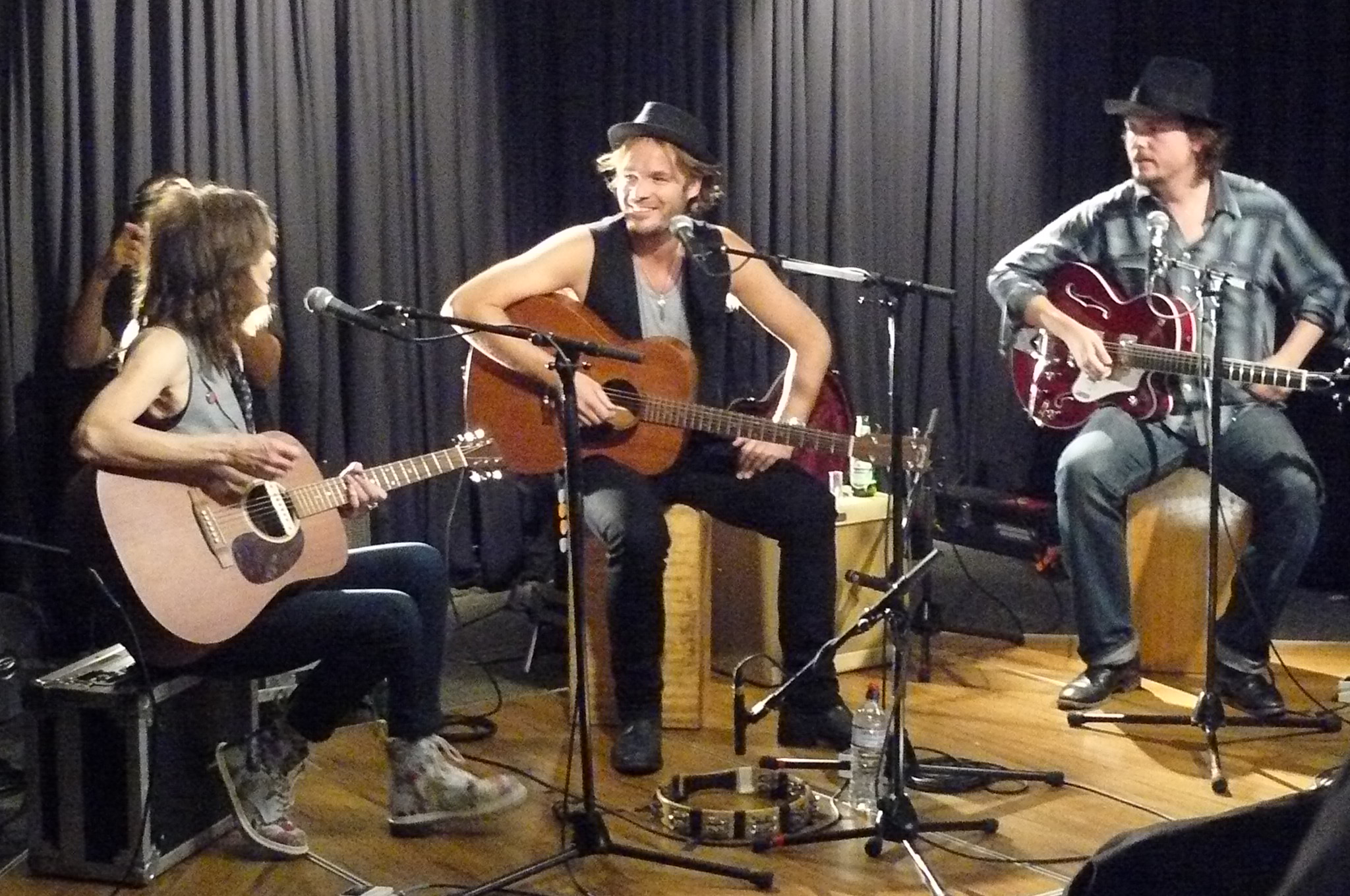 How cool is my job? Today I came in and worked like I normally do, but then at 3:45, instead of yawning and looking at what meeting was next up on my calendar, I got to stroll a few feet to check out a live show! Just being in the business we're in, I've been able to check out a few bands, like Minus the Bear and Fun, but today is a special double-header featuring Susan Cowsill and J.P., Chrissie and the Fairground Boys (that's Chrissie Hynde's new band in case you hadn't heard!). How amazing is this … a true icon and some fantastic musicians! To prepare for this historic day, our video & production crews transformed part of our nondescript, office-park building into a bonafide mini-club complete with black curtains, bright lights, camera equipment, a small stage, and adoring fans! PlayNetwork employees and guests have already been treated to a set by Susan Cowsill and her band. On the road from New Orleans, Susan's band was kind enough to stop by and play a few songs from their new album, Lighthouse. Susan first entered the pop-culture spotlight at the age of eight, as the youngest member of the 60s musical family The Cowsills. She has a beautiful, distinctive voice, a friendly, warm stage presence and a fantastic band. Loved their opener "Dragon Flys" and can't wait to check out their entire album. I recommend checking out this veteran songwriter.  
 Now on to JP, Chrissie and the Fairground Boys … wow! I just can't believe that I was standing less than 10 feet away from one of rock-n-rolls great vocalists, Chrissie Hynde. She's a legend, but she also clearly loves to perform and more than tolerates her fans. She was gracious, funny and engaged. The band played 4 songs from their upcoming release, Fidelity (out on Aug-24), and I was in heaven every moment, reveling in Chrissie's luscious voice which fits so well with JP's warm harmonies. Chrissie commented that she'd rather play to a small room than think about fans watching a performance on a jumbotron, and I believe that after this set. Truly fantastic!
I highly recommend checking out these two great bands! Thanks again to Susan Cowsill and JP, Chrissie and the Fairground Boys!